Microblading is also known as Embroidery Brows. Unlike traditional eyebrow tattoo, this is less invasive and is considered as semi-permanent. It typically lasts 1-3 years, depending on your skin type and skin care routine. The procedure is done using a hand-held tool with ultra-fine needles and each 'hair' is gently etched into the skin, giving an incredibly natural and realistic look. This can dramatically correct or fully reconstruct lost eyebrow and is excellent for those wanting to enhance their brows or who have little to no eyebrows, thinning brows from age or over-tweezed brows. Pigments used are chosen to match the natural or desired brow color and skin tone will also be taken into consideration.
Combination Brows is the best option if the client wants their brows look more defined but still natural. The procedure is done using a machine to shade pigment between microblading strokes. This give brows look fuller and more defined.
Microshading Brows is for someone who wants their brows to have a makeup look but do not want to draw their eyebrows everyday. Client can choose from high definition ombre powder effect or natural shading ombre powder effect.
The service can be a little uncomfortable for those who are more sensitive. However, there is an anesthetic applied before and during the procedure to keep this to a minimum to where it is completely tolerable.
For the first Microblading procedure, it will take 2-3 hours. During this session, the artist will shape and style the client's brows for client approval. We then follow with pigment color selection. Once the client is satisfied with the choices, we begin the procedure.
The client comes in for a follow-up visit in order to have any minor necessary touch-ups.
The second Microblading procedure session takes place after 4-6 weeks after the initial session. This session will take approximately 1.5-2 hours to complete.
Do not drink coffee, alcohol or energizing drinks on the day of treatment.
Do not tan or have intense sun exposure 3 days before treatment.
No menstrual period.
No waxing 2-3 days before the treatment.
No chemical peels, dermabrasion, laser or any other intense treatments 2 weeks before treatment.
Before the appointment begins, the artist will provide a quick consultation to discuss expectations and results of the treatment.
The artist then draws on the eyebrow shape according to the PhiBrows Golden Ration Measuring Tool. Brows are measured perfectly to complement your unique face shape and size.
The artist chooses the perfect PhiBrows Color.
Initial strokes are placed. Then, anesthetic is applied to reduce any discomfort.
After, a pigment mask is left to absorb into the skin. Once finished, the artist cleans the area thoroughly.
After the treatment, the artist will provide Skin Candy Ointment to use twice a day for 7 days.
You can use these payment channels:
BDO:  001218039934

Account name: Criselda Y. Jao

GCash:  09650543167

Account name: Crystel Faye Yumang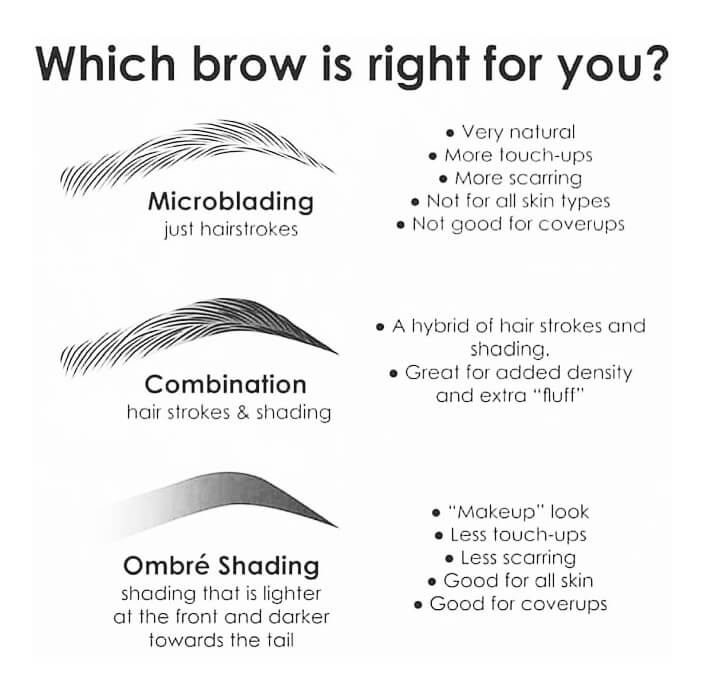 Pregnancy
Anyone using Accutane
Had botox for the last 2 weeks
Had gotten a deep tan or chemical peels for the last 2 weeks
Breastfeeding (treatment is possible, though anesthetic will not be given)
Keloids or if you have tendency to keloid, birthmarks or moles.
Diabetic (if the person is not under medical supervision)
Serious diseases such as cancer, epilepsy, auto-immune disorders (doctor's note is required)
WE RESERVE THE RIGHT TO REFUSE SERVICE TO ANYONE DEEMED NOT SUITABLE FOR THIS PROCEDURE OR FOR ANY OTHER REASON.
Since Microblading pigments are not implanted into the skin as deep as the traditional tattoos, the area will naturally fade over time. Microblading typically lasts 1-3 years, depending on skin type (normal, dry, oily), age (youthful, mature). Skin care routine will also affect the lasting effect of the pigment: clients who tan, uses products with AHA or Glycolic Acid will fade faster as your skin will resurface faster. Each individual's color retention within the skin will vary.
To maintain the brows looking fresh, a touch-up is needed every 12-18 months. Clients can let the Microbladed area fade over time, but please note a slight shadow may remain.
Microblading is a multiple step appointment process. YOUR BROWS WILL NOT BE COMPLETED AFTER JUST ONE SERVICE.
For Microblading, atleast 2-4 appointments are needed initially. Each of these appointments being 4-6 weeks apart.
Annual Touch-Up is recommended to keep them beautiful and natural.
Yes! Perfection Retouch is recommended 4-6 weeks after the first initial session. It's a necessity because everyone's skin absorbs pigment differently, and your brow strokes will need some perfecting to complete the look.
If you don't commit time to perform a touch-up, expect your brows to fade in less than 6 months. Neglecting it would mean the money you paid for the initial procedure may not pay off and the return of investment as not enough.
A touch-up procedure is only applicable to our previous client.
"Although we could exempt other clients on a case-to-case basis."
The eyebrow area will be slightly red after the procedure and color will appear very dark. This is normal for the procedure and part of the healing process. The color will fade by up to 40% as it heals. In the following days, the eyebrows will continue to be dark and you will notice slight scabbing. Do not pick at the scabs as this may damage the skin and the outcome of the tattooed area. It takes approximately 7-14 days for the brows to heal over, and about 1 month for the color to fully set in. You'll notice the color us very light right after the 2 weeks after healing, the skin will have an opaque milky looking quality to it. This is known as the milk skin and is common in tattooing. This is due to the tissue still healing from the inside-out even though the surface of the skin is healed. True color will reveal itself once healed.
As with all cosmetic procedures, individuals should not make their choices lightly. We always recommend clients to do their research, understand the procedure and compare different artists' work and portfolio when making their decisions.
The artist will do her utmost to shape and style the eyebrows to the client's satisfaction prior to the procedure. Every effort will be made to achieve an even appearance, but please realize our faces are never perfectly symmetrical. Uneven appearance can be fixed during the touch-up session.
Pigment discoloration and color correction can also be fixed during the touch-up session. Microbladed brows will eventually fade away if no additional touch-ups are done.